Keynoters || Panelists I || Panelists II || Panelists III || Chairs of Panels || Staff
---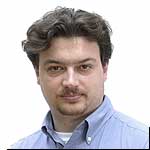 My Name is Paolo Valdemarin, I live in Northern Italy, I work with evectors and I'm a blogger. With Matt Mower at BlogTalk we'll present k-collector, a new kind of aggregator that leverages toorg/sites/blogtalk.net/files to create customized views of contents both for internet and intranet use. We will also discuss Easy New Toorg/sites/blogtalk.net/files, an RSS 2.0 Module designed to easily include toorg/sites/blogtalk.net/files in RSS feeds.

---
My name is Marc Barrot. I'm part IT consultant, part sysadmin, part computer scientist, and a full time human being (or so I hope :-) living in Manhattan. I'm not much of a blogger. I discovered blogging a little over a year ago, then found out it wasn't what I was looking for: most of what I'd like to communicate does not fit well into the 'journal' form. What I want is a simple way to create / co-author / publish / annotate / receive notification of changes to rich (as in media) and complex (as in long and highly structured) documents directly over the World Wide Web. So I've researched new applications of DHTML techniques, and embarked in a step by step process of forging, releasing and modifying the tools that will change the way I (and hopefully others) write on the Web. Last year, I released activeRenderer, a small add-on to a weblogging tool that demonstrates the power of outlines directly in the web browser. At BlogTalk, I'll present the first prototype of the webOutliner, a browser based full outliner I created with Doug Baron, Marc Canter and Danny Goodman. We will discuss the features of the coming webOutliner service, how it should integrate within the blogging world, and what the next steps towards my goal of easy Web collaboration should be.
---
I'm Matt Mower from London. I do a lot of knowledge management related work. My interest in blogging has turned into a quest to see how the blogging approach can help make organisations more effective.
I collaborate very closely with Paolo and evectors and will be helping present k-collector and the proposed ENT1.0 standard for transporting toorg/sites/blogtalk.net/files via RSS feeds.
---
The BOAF-panel will be chaired by:
Grüß Gott. Ich heisse Phil Wolff.
On Blogging:.
How many bloggers does it take to screw in a lightbulb?
How do you apply weblogs and social software to the workplace and to labor markets?
I've been watching the convergence of social sciences, technology and management strategy. I started blogging about it on my Manila weblog, Phil Wolff's Journal of Extrapreneurial Strategy and Technology since 1999.
What is the future of weblogs?
I started blogging on this topic in my Radio weblog, a klog apart, in 2002.
How many weblogs are there?
I'm cataloging the size of blogspace at blogcount.com; please forward your estimates and statistics.
Ego:
At work, I am Candidate Voice's Vice President for research, technology, and operations. CV assesses and certifies corporate career sites from a job seeker's perspective. (How badly do you treat potential workers? What can you do about it?)
I've had technology and marketing roles at the United States Naval Supply Systems Command, Gateway, Wang Laboratories, Compaq, Bechtel National, LSI Logic, and my own software project management firm. I was global Vice President for Technology and Strategy at Adecco SA (the Swiss staffing conglomerate), introducing online business models, and founding an internal startup.
I'm a Foresight Institute Senior Associate, learning about the post-IT world.
I live in Oakland, California, United States.
Write me at [email protected] or via Ryze as evanwolf.
Tschüss